Prior to bottling the Santos Dumont X.O. Rum has completed a unique triple cask ageing in old bourbon barrels, P.X. Sherry casks and Port Casks.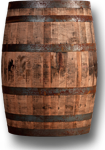 The rum has a pleasant viscosity with a buttery feel on the tongue.
The taste is finishing with a velvety soft and delicately sweet aftertaste with notes of vanilla and coconut.
This Rum is bottled by hand in limited
quantities and each single bottle is numbered and carries an additional number of the cask the rum was
drawn from.